Vik Muniz:
Waste Land
at the 23rd Tokyo International Film Festival
2010. 10.23 & 10.28
The Event Report on Q&A session with Vik Muniz is now online:
TIFF Event Report
TIFF Event Report (moving image)

"Waste Land" is premiered at the 23rd Tokyo International Film Festival (TIFF).
"Waste Land" is a documentary film on the "Pictures of Garbage" series by Vik Muniz.
On 23rd October, a Q&A session between the artist and the audience will follow the screening.
Screening film: "Waste Land"
Screening date: 10.23 sat, 10:45 – at TOHO CINEMAS Roppongi Hills (screen1)
          (followed by Q&A session with Vik Muniz)
          10.28 thu, 17:00 – at CINEMART Roppongi (screen1)
About the film:
This documentary followed the artist's three year project in Rio de Janeiro. He visited the world largest landfill, Jardim Gramacho, and made portraits of 'pickers' who are picking recyclable materials among garbage.
Because of his background - he is from a lower class family in Brazil - he planned to pay back for his country through his art. He collaborated to create artworks with pickers and the work was auctioned at Philips in London, and the profit was donated to the association of pickers.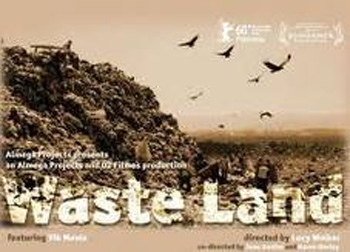 ©2009 nca | nichido contemporary art. All Rights Reserved.