Bradley McCallum and Jacqueline Tarry;
A Conversation on Race in America

©Tokyo Wonder Site

Bradley McCallum and Jacqueline Tarry (http://www.mccallumtarry.com/), an inter-racial, husband and wife team of artists, will be returning to Japan and participate in "A Conversation on Race in America" program at Tokyo Wonder Site Shibuya on February 17. The program is sponsored by the US Embassy Tokyo; their visit is schedule to coincide with Black History Month in February.
McCallum and Tarry have worked collaboratively for over a decade, and as an inter-racial, husband and wife team, they draw on their own relationship as they look at race in America. The artists have created artwork that confronts the suppressed prejudices and histories that are interwoven in America, from slavery, through Jim Crow and the Civil Rights Movement to the first biracial president. The artists' work provides a useful framework to expand the conversation on race, to understand the legacy of race in America and the challenges that continue to face the nation. They will open with a presentation of their artwork, including their video presentation "Within Our Gates" (http://www.youtube.com/watch?v=YLtAKhNMfGs) and a PowerPoint presentation. The presentation will be followed by dialogue on race in America. They will share their experience as an inter-racial couple, the generational values inherited from their parents and those values that will be passed on to their son. They will discuss the importance of the current administration and the potential to engage civic discourse.
For further details of the program, please refer to the links below.
February
17th (Wed) 19:00-21:00, Tokyo Wonder Site Shibuya
http://www.tokyo-ws.org/index.html
19th (Fri) 12:00-13:30, Fukuoka American Center
http://japan.usembassy.gov/fukuoka/fj-main.html
20th (Sat) 14:00-15:30, Nagoya City Museum
http://nagoya.usconsulate.gov/Poster%20McCallum%20Tarry.pdf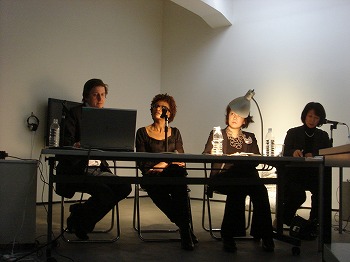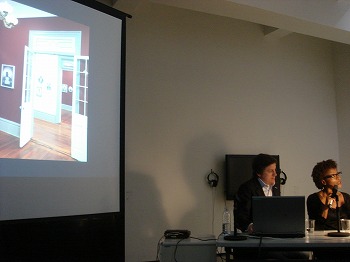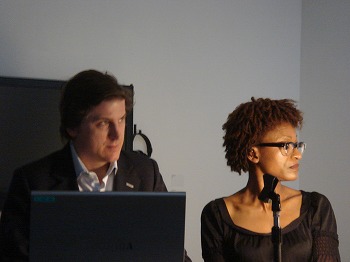 (at Tokyo Wonder Site Shibuya, 17th February 2010)


©2009 nca | nichido contemporary art. All Rights Reserved.